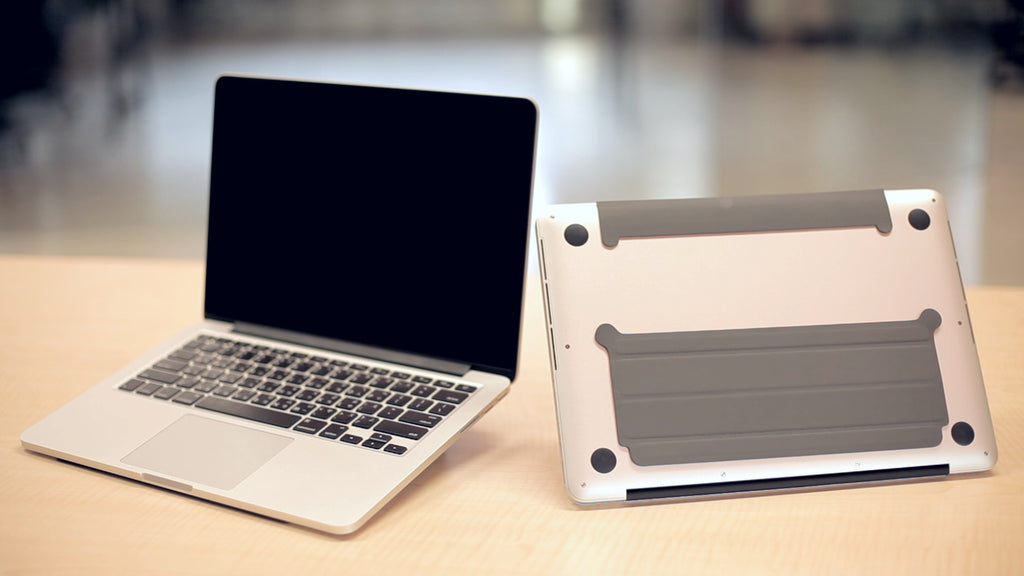 iStand - An ultra thin portable stand for all types of 13 " & 15" MacBooks!
A perfect Macbook Stand at an unbelievable price!
The smart stand is an extremely thin & portable stand for all types of MacBooks. 
How did it all start? Well, we couldn't find any simple & thin Macbook stands on the market, so we decided to make one ourselves! How do you invent a perfect portable stand for Macbooks? Here are few factors that we think is important:
It has to be very, VERY thin! 
We want it to be very LIGHT in weight. 
It must be easy to carry, we want to bring it to everywhere we go! 
The product must look and feel nice. Macbook users CANNOT tolerate any imperfections! 
It has to be sturdy even after years of usage. 
Needs to provide a golden angle for perfect typing gestures.
Whoa! Does it sound like a "slightly" challenging task to design this perfect portable stand? Yea it wasn't so easy.
First we started by picking materials. Most of the portable stands on the market are made out of solid metals. They look pretty nice, but they are quite heavy. It is hard to carry these metal stands around.
Using the exact same material as your Apple iPad smart covers.
We wanted to use a quality material that is lighter in weight. The iPad smart covers caught our attention! YES, we ended up using the EXACT SAME MATERIAL AS THE APPLE iPad SMART COVERS as the material for our "Ultra Thin Portable Stand".
We placed super fiberglasses within the PU leather in order to make the stand strong and sturdy. This design works very well because all of these materials are very light in weight. Yet, they are all firm materials that make this smart stand very solid and stable.
Then, we wanted to make sure that this stand is extremely portable. The stand somehow has to stick onto the Macbook. Some people might think we use magnets, but NOPE. We tested many, many materials and found that washable adhesives work the best! It is totally reusable, and will remain sticky for years. If it ever gets dusty, just wash it. It will become as good as new again.
We also added a set of ears to the smart stand. You will be able to detach and attach the smart stand within seconds.
Say goodbye to sore wrist, neck and shoulders!
Having an "Ultra Thin Portable Stand" is super important! Why? Because without a proper stand, you will be using Macbooks in an awkward position. The keyboard is flat, and you will have to bend your wrist in order to type. Everyone will suffer from severe joint problems if they are constantly sitting and typing at an incorrect position.
Finally, how does this smart stand work?
"Ultra Thin Portable Stand" comes in 2 pieces. The main piece is the stand itself. You will stick the entire piece close to the border of your computer, where the "Macbook" logo lies. When you need to use it, simply grab the pair of ears and pull it up. The washable adhesive will work like reusable stickers. Bend the stand a little and stick it back onto your Macbook. The smart stand will form an empty triangular space, tilting your computer. Your stand has now placed your Macbook at a perfect angle.
The second piece is a supporting piece that protects your laptop from being scratched. You will stick this on the very edge of your Macbook.
The "Ultra Thin Portable Stand" is really a simple, quality and easy-to-use Macbook stand.